VIDEOS
HiX-TORY
HiXTAPE noun
hix· tape | \ 'hicks-tape' \
A mixtape of BACKROAD BANGERS. Brought to you by your favorite good ol country boys and girls. EST 2019 by the HiXTAPE OG, HARDY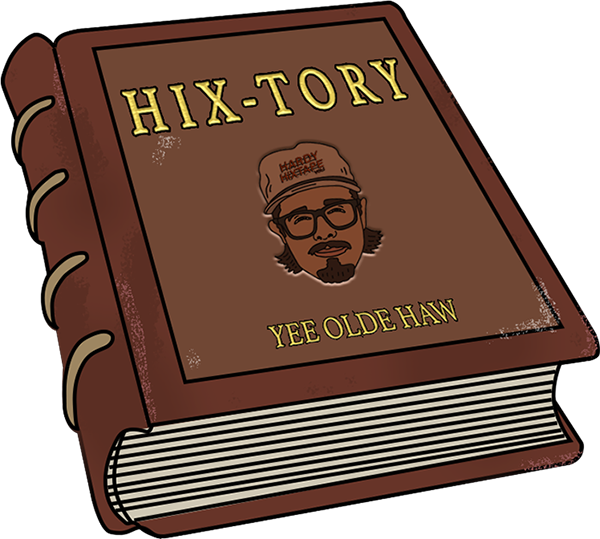 WELCOME TO HiXVILLE!
POPULATION: GROWING REAL QUICK
WHAT THE HELL IS A HiXTAPE?
WHO THE HELL IS ASKING? OKAY, THAT DON'T MATTER BECAUSE HiXTAPE IS A BIG, LOUD STATE OF MIND, STRAIGHT OUTTA NASHVILLE, BUT WIDE OPEN TO EVERYBODY ANYWHERE, WHO LOVES SOME REAL COUNTRY AND JUST A REAL GOOD TIME. HiXTAPE IS NOT JUST A COOL BRAND BRINGING YOU SOME VERY COOL MUSIC – IT'S A WAY OF LIFE FOR THOSE WHO REALLY LIKE TO LIVE.
WHERE THE HELL CAN I FIND HiXTAPE?
WHEREVER THE BEER IS COLD, THE FISH GET FRIED, AND FIREFLIES GLOW. MAYBE ON YOUR TSHIRT IF YOU'RE COOL. AND DEFINITELY PLAYING IN YOUR TRUCK.
WHAT'S THE HISTORY OF HiXTAPE?
YOU MEAN, YOU WANT A FREE HIX-TORY LESSON? OKAY, SHARPEN YOUR NO. 2 PENCILS AND PREPARE TO GET SCHOOLED:
800 AD
BEER IS INVENTED – OR THAT'S WHAT THE GENIUSES ON THE HISTORY CHANNEL SAY. SHORTLY AFTER THAT, HIXS FROM EVERY NATION STARTED WORKING HARDLY ON WHAT SOON BECAME THE SWEETEST SCIENCE OF ALL – HIX-OLOGY.
1925
THE FIRST PICKUP TRUCK IS INVENTED BY HENRY FORD. BUT WE HEAR THE FIRST PICKUP ARTIST WAS SOME BETTER-LOOKING DUDE NAMED "CHUCK" WHO WORKED AT THE FACTORY. THAT GUY STARTED HIS OWN PRODUCTION LINE.
1962
GEORGE JONES GOES TO #1 WITH "SHE THINKS I STILL CARE." NOT SURE THAT ACTUALLY MATTERS HERE, BUT DAMN, I LOVE GEORGE JONES.
2019
THE FIRST HiXTAPE IN HISTORY IS RELEASED. HELL, YOU SHOULDA FIGURED THAT OUT – THE DAMN THING WAS CALLED HiXTAPE, VOL. 1!
SO HOW ABOUT MORE RECENT HIX-TORY? LIKE WHAT KINDA DOWN-HOME OG PUT TOGETHER THE FIRST HiXTAPE?
SONGWRITER AND ARTIST MICHAEL HARDY – KNOWN SIMPLY AS "HARDY" FROM PHILADELPHIA, MISSISSIPPI – PLAYED A HUGE PART IN GETTING THIS PARTY STARTED, BUT EVEN HARDY SAYS THAT LIKE MOST GREAT BASHES, "HiXTAPE" GRADUALLY TOOK ON A WHOLE LIFE OF ITS OWN. "I HAD THE IDEA OF DOING AN EP WITH FEATURES ON IT," HARDY SAYS TODAY. "WE WERE GOING TO DO LIKE FIVE SONGS, BECAUSE I DIDN'T KNOW THAT MANY BUDDIES IN THE INDUSTRY. BUT OVER THE COURSE OF A YEAR, I HAD WORKED WITH SO MANY ARTISTS AND WE'D HAD SO MUCH FUN, THAT PEOPLE JUMPED ONBOARD. I MADE A WISH LIST AND SOMEHOW PRETTY MUCH EVERYONE SAID 'YES.'" INSPIRED BY ALL THE FRESH, COLLABORATIVE FUN OF AN OLD-SCHOOL HIP-HOP MIXTAPE, "HiXTAPE" IS A TREMENDOUS GROUP EFFORT AND A COOL BRAND WORTH BUILDING. "THAT WAS KINDA THE PLAN ALL ALONG – TO BUILD A 'HiXTAPE' MAFIA AND INVITE EVERYONE ALONG FOR THE JOYRIDE. IN THE FUTURE, I WON'T BE THE ONLY PERSON TO MAKE A HiXTAPE. IT FEELS LIKE THERE'S ROOM ENOUGH FOR A WHOLE BUNCH OF US TO PLAY HERE."
WHO THE HELL MADE THE GUEST LIST FOR THE FIRST HiXTAPE?
AN AMAZING GROUP OF CRAZY TALENTED CHARACTERS, FROM TRUE COUNTRY LEGENDS LIKE THE LATE GREAT JOE DIFFIE – IN WHAT IS ONE OF HIS LAST RECORDINGS – TRACY LAWRENCE, AND TRACE ADKINS, TO CURRENT COUNTRY SENSATIONS LIKE KEITH URBAN, THOMAS RHETT, JAKE OWEN, MORGAN WALLEN, LAUREN ALAINA, DEVIN DAWSON, MITCHELL TENPENNY, AND COLE SWINDELL, PLUS SURPRISE PARTY GUESTS LIKE ROCK GUITAR GOD ZAKK WYLDE. "IT'S A FEEL-GOOD SUCCESS STORY," SAYS HARDY. "IT'S A ONE-TIME-THING THAT'S TURNING INTO A MOVEMENT. I'D ASK PEOPLE TO JOIN US, THEY'D ASK TO HEAR THE TUNE, AND THEN THEY JUMPED IN. IT MEANT SO MUCH TO FEEL THAT APPROVAL AND CONNECTION WITH THE MUSIC COMMUNITY. PEOPLE GAVE THEIR ALL. TAKE KEITH URBAN. WE HAD ONLY ASSUMED HE WAS COMING IN TO (PRODUCER) JOEY MOI'S PLACE TO PLAY A GUITAR SOLO. BUT AFTER AN HOUR PLAYING, KEITH SAID, 'ALRIGHT, GREAT – YOU GOTTA LYRIC?' AND WE WERE THRILLED, LIKE 'HELL YEAH, WE DO.' THAT'S HOW KEITH ENDED UP SINGING NOT JUST THE SECOND VERSE OF 'NO PLACE LIKE HOMETOWN,' BUT ON THE CHORUS TOO."
IS THIS HiXTAPE THING REALLY GOING TO CONTINUE?
THE FIRST ONE WAS A HIT, SO WHAT DO YOU THINK, PAL? HELL YEAH! HIX-TORY IS BEING WRITTEN RIGHT NOW. ALONG WITH SOME KICKASS NEW TUNES. PREPARE FOR ANYTHING. THIS PARTY WAS TOO MUCH FUN FOR IT NOT TO CONTINUE AND THE GUEST LIST TO KEEP EXPANDING.
OKAY, LAST QUESTION. WHAT'S HiXTAPE ALL ABOUT REALLY?
IT'S ABOUT BUILDING COMMUNITY.
IT'S ABOUT HAVING FUN.
IT'S ABOUT REAL COUNTRY MUSIC FOR REAL PEOPLE.
AND IT'S ABOUT TIME.
STAY TUNED FOR SO MUCH MORE TO COME.
NOW PLAY THE DAMN HiXTAPE!